If you have had a potential exposure to HIV, PEP or Post Exposure Prophylaxis, a medical treatment to prevent HIV infection is available with Dr George Forgan-Smith at Collins Street Medical Centre in Melbourne's CBD.
If you have had a HIV exposure PEP or Post Exposure Prophylaxis can help prevent HIV infection. Common ways to be exposed to HIV include:
broken condom
sex without a condom
shared a needle or injecting equipment with  a person who may have HIV
If you are worried or concerned it is important to seek medical help fast. PEP is most effective within 24 hours of exposure but can be given up to 72 hours afterwards to work.
Dr George Forgan-Smith is trained in PEP and HIV prevention and can organise all treatment and testing required to start the HIV prevention treatment.
Dr George's office is at Collins Street Medical Centre 267 Collins Street.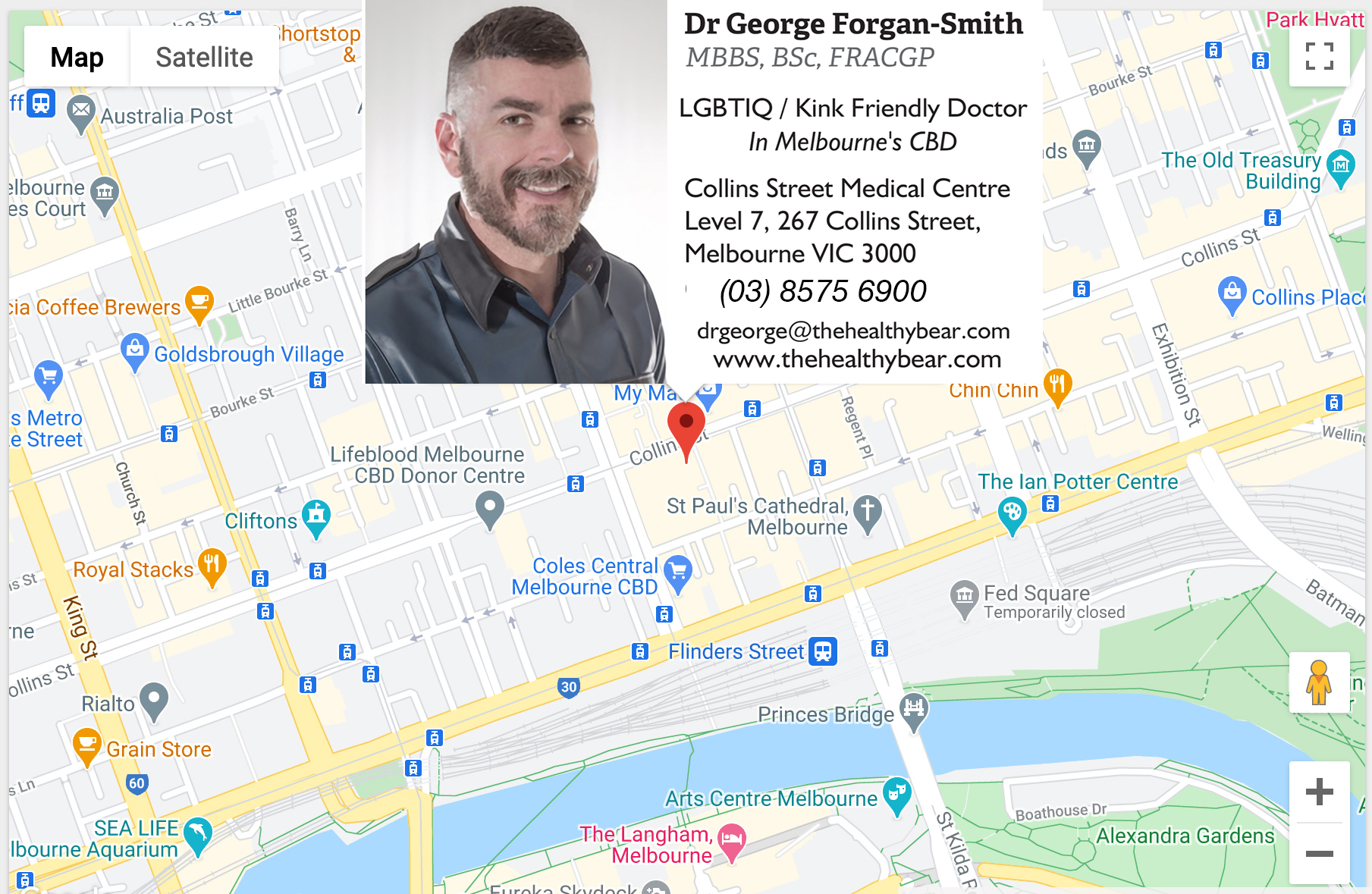 To book an appointment simply call Collins Street Medical Centre on 03 8575 6900 and advise you require an urgent appointment with Dr Forgan-Smith for PEP.
If I am unavailable or it is outside of office hours PEP can be obtained at all the major hospitals and emergency departments.
Hospitals close to Collins Street Medical Centre include:
The Alfred Hospital Commercial Rd Prahran
The Royal Melbourne Hospital Flemington Rd North Melbourne
St Vincents Hospital Victoria Parade Fitzroy
Further information on PEP is available at Get PEP https://getpep.info
If you are outside of Melbourne there is a full listing of finding places to get PEP  Australia wide is here https://www.getpep.info/get-pep-now/
Dr George
video transcript

Hey guys. It's Dr. George Forgan-Smith here. And today I wanted to be able to share with you that PEP is now gonna be available from the Collins Street Clinic. I've been able to talk with the health department and I'm able to offer full post-exposure prophylaxis here at Collins Street Medical as part of my ongoing work in HIV and HIV prevention.

So PEP is a treatment that is offered after a potential exposure to HIV. For example, condomless anal sex. Whether that be as a top or as a bottom, it is still a potential risk of HIV infection. So the trick with PEP is that we need to get the treatment started ASAP. So within 72 hours of your potential exposure. So please, if you feel that you need PEP, please let the front desk know that you need an urgent appointment to see myself. If I am unavailable or it's a weekend, then I do recommend heading straight to Melbourne Sexual Health. Or outside of hours you can go to any of the bigger hospitals with high HIV loads. For example, The Alfred, St. Vincent's, Royal Melbourne, these are all hospitals that are able to help with PEP as well. However, if you come in and see me, I'm able to organise all of the screening testing as well as a prescription for the medication that you will need to take. Of course, this is something that we'll converse about and we'll talk about your potential exposure and the risks and the best way to move forward.

So if you've had a potential exposure to HIV that you're worried about, please book in to see myself or a sexual health clinic as soon as you can and we can ensure that you are heading in the right direction to get on PEP, post-exposure prophylaxis for HIV.